Manufacturer: F.M. Brown's
Model Number: 44227
Open the bag and smell the sweet aroma of Brown's® western-cut timothy hay. This clean, natural scent is your assurance of top quality and freshness, captured straight from the timothy hay fields and harvested at the peak of maturity. 1.875 lbs.
Purina® Rabbit Chow™ Complete Natural AdvantEdge™ is a pelleted, highly palatable food with all the essential nutrients for growth, maintenance and reproduction. It has the right balance of protein, fiber and critical nutrients, making it an excellent food for all types of rabbits of all ages.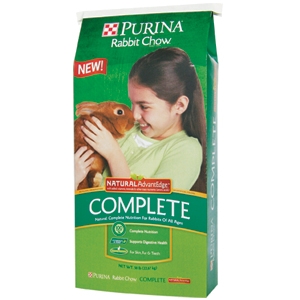 Manufacturer: Purina
SKU: rabbitchow_complete
Purina® Rabbit Chow™ Complete Natural AdvantEdge™ is a pelleted, highly palatable food with all the essential nutrients for growth, maintenance and reproduction. It has the right balance of protein, fiber and critical nutrients, making it an excellent food for all types of rabbits of all ages. It's the easiest way to feed and the perfect choice for first-time rabbit owners. 25lb